Moldavite Necklace Raw Moldavite Jewelry Tektite Meteorite Unisex Wire Wrap Green Gemstone
Save 76%
USD $125.00
USD $28.90
---
Selected:
Random ShapeSmall (0.17oz or 5g )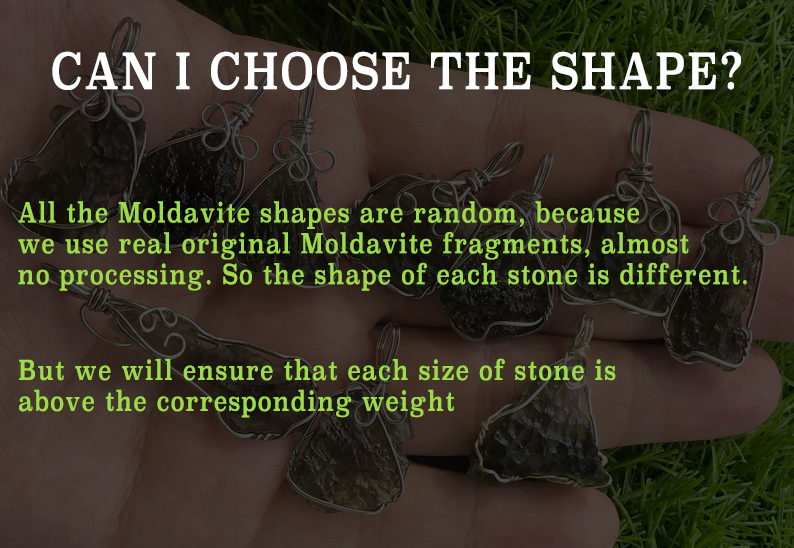 Detail
Handmade item

Necklace length: 17.7 Inches;

Pendant height: 18 Millimeters(Medium); Pendant width: 11 Millimeters(Medium)

Materials: Raw Moldavite

Style: Brutalist

Can be personalized
Description
Wonderful pendant of unheated/untreated moldavite, rare tektite meteorite piece from the Czech Republic!) Unique and amazing piece)

Association: Uranus, Neptune, and Pluto
Color: Deep green, green, light green
Astrological signs: All
Element: Storm
Energies: Inner vision, power, love
Dream Significance: You will soon be affected by a transforming experience.
Symbolizes: Stone of transformation
Birthstone: Not a traditional birthstone for any month

Moldavite is said to be the stone that initiates transformation and brings about an acceleration of spiritual evolution. It helps in activating the 'dream states'. It is a stone of communication that helps in interacting with the cosmos. It has the energy to neutralize the hold of hypnotic commands. It helps in cleansing the energy and acts as a spiritual protector.
It also integrates the mind and heart, to work together and bring about the best results.

Pendant wire wrap in high-quality wire of sterling silver, gold-filled or pink gold. Finished chain 17.7'' plus adjustable loop or black/green/brown cotton rope with two regulate knots.

If you have any specification, I will be happy to make something especially for you)

I use eco–friendly goods without toxic or other harmful substances. 

Ships in a nice gift box.